Summary
Release of SwyxPLUS VisualGroups Version 1.2.0.0 for SwyxWare Release 11.20.2.0 and higher.
This release serves for new VisualGroups installations as well as for update installations of SwyxPLUS VisualGroups.
Please note:
This release is required for future SwyxWare Version if you are going to update an existing VisualGroups installation or perform a new installation of VisualGroups. Already installed previous versions continue to run smoothly.
Information
SwyxPLUS VisualGroups 1.2.0.0 is now available for download on the Swyx Website.
Most important changes:
Wallboards - Queue overview in real time (for Chrome, Firefox and Safari)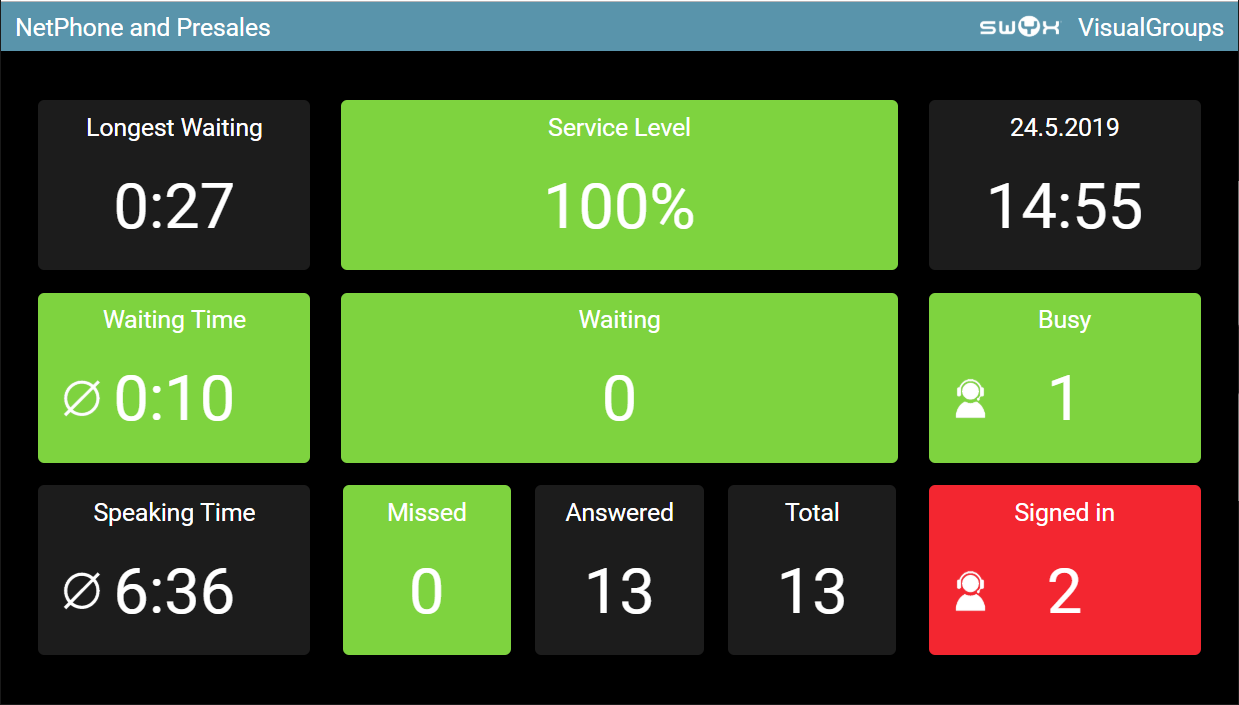 See who is calling in advance - even better now by resolving call numbers via LDAP to ESTOS MetaDirectory

Individual music on hold per queue

Configured reports can be resent on request

User specific information in reports can be turned on or off per report

For each report, the queues to report are now selectable

All required files are included in the package "SwyxPLUS VisualGroups 1.2.0.0.zip".
Package contents:
Release Notes - File "Release Notes VisualGroups 1.2.0.0.pdf"
Installer for VisualGroups 1.2.0.0 - File "SwyxPLUSVisualGroupsInstaller.exe"
Manual in German and English - PDF Files
File for SwyxIt! until including SwyxWare Release 11.38 - File "IpPbx.VisualGroups.WebExtension.ocx"
Remark on the file for SwyxIt! until including SwyxWare Release 11.38
Only in case former SwyxIt! versions until including SwyxWare Release 11.38 shall be used with VisualGroups, the OCX file provided within the download package is recommended to be updated in each client installation. Release Notes section 5.1 describes the necessary steps to update this.
The Installation of VisualGroups 1.2.0.0 and the update of an existent VisualGroups installation is described in the manual.