The following article describes the ordering process for the products Swyx Flex, Swyx Purchase Model and SwyxON.
Swyx Flex is a rental product that you rent on a monthly basis and where SwyxWare is installed at the customer site.
Swyx Purchase is a purchase product, which you pay only once and is also installed at the customer site. If you add the SUP (Software Update Plan, includes the right to update to new major versions), this is also payable monthly.
SwyxON is also a rental product, which you rent and pay for on a monthly basis. Here, however, the SwyxWare is centrally hosted and operated by Enreach. The customer does not need their own server, but simply connects to this system in the cloud.

Note: As a pure Swyx Partner (not Voiceworks Full Wholesaler) the SwyxON product is not available for you in Operator by default! Please contact Swyx channel sales if you are interested in ordering SwyxON via Operator!
Please do not order the potentially visible product "SwyxON (don't order manually)". This is only to be used for autom. processes!
All of the above product variants are always made via Operator, Enreach's ordering tool. The necessary login data can be requested via the Swyx Partnernet.
After you have received the login data as a Swyx Partner, log in to the Operator at the URL https://operator.swyx.com . It is important that you order in the context of the customer for whom you want to order Swyx Flex. How to create customers in advance is explained in the webcasts available in the Swyx Partnernet.
Note: Input fields in the order street which are marked with an orange bar on the left are mandatory fields and must be filled.
Step 1: Start the order process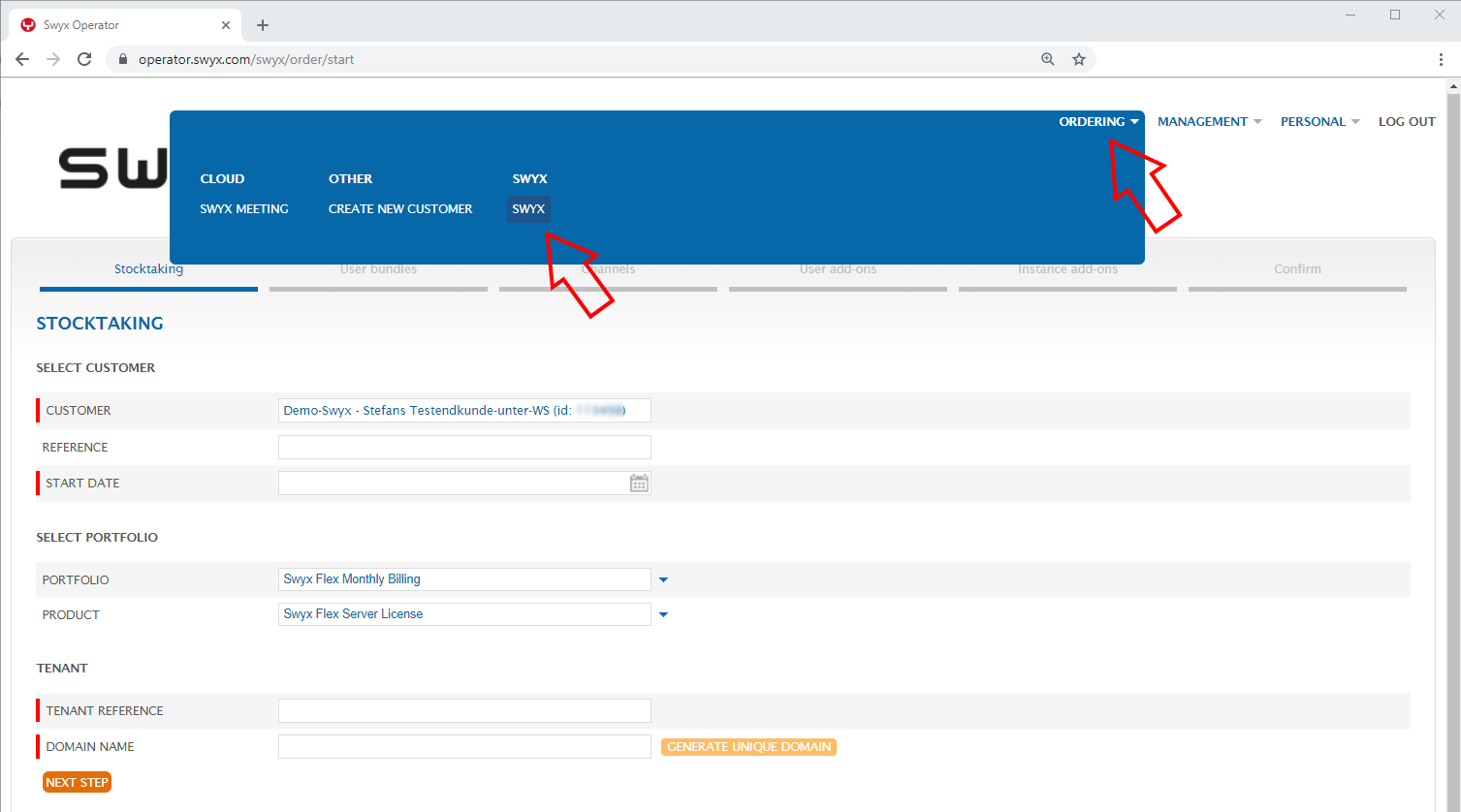 Start your order by clicking on Ordering in the menu and then on Swyx.
Note: Check that the Customer field contains the customer for whom you want to order Swyx. Detailed information on how to select the right customer context can be found here.
Step 2: Stocktaking

In the first dialog of the order process (also called order street), please enter the following data:
Customer: Select the customer for whom you want to order Swyx, if this has not already been done. Check that this field is correctly filled (further notes).
Reference: Enter a reference of your choice here to identify the order for your customer. This reference text will be shown on invoices to make the assignment easier for you.
Start date:

With the start date you determine from when the Swyx licenses are available for installation. At the same time the Swyx usage will be invoiced from this date. I.e. typically you will select here the date of on-site installation and commissioning of SwyxWare at your customer's site. Alternatively, for Swyx Flex and Swyx Purchase Model you can select a date further in the future and put the SwyxWare into operation at the customer's site on an earlier date via the activation key.

Portfolio: Here you select the Swyx product you want to use. The products explained above

Swyx Flex
Swyx Purchase Model / Swyx Purchase
SwyxON
are offered. Depending on your authorization, one of the above variants may be missing for you, or you may still see some technical products that you cannot/should not order manually.

Product: The Product field is automatically pre-populated according to the above portfolio selection and should not be changed.
Tenant Reference: In order to distinguish between several Swyx Flex installations at the same customer, enter a unique reference here, e.g. customer name with attached location. You can choose the text freely, but it must be at least 3 characters long (and max. 100 characters)!
Domain name: Each Swyx Flex installation must have a unique domain name - across all customers. To ensure this, press the button "Generate Unique Domain". If your customer has an official, worldwide unique DNS domain, you can also enter it here. Remember that if you have multiple Swyx Flex installations for one customer (e.g. multiple locations), the domain name must be unique for each installation. You could work with subdomains here.
The automatic generation via the button Generate Unique Domain works for every use case - this method can always be used.
Press the button Next step to go to the next ordering step.
Step 3: Order feature profiles / user bundles

In this step, please enter the number of users you wish to order for the respective feature profile. Please refer to the price list for the exact features and price of each feature profile (Basic, Professional & Premium). Additionally you will find a list of the features of each feature profile in the SwyxWare manual.
After you have entered the number of user profiles, press Next step.
Step 4: Channels

In this ordering step, you specify the number of channels your customer wants to use. All values to be entered on this page do not cause any additional costs and are therefore already priced into the previously selected feature profiles.
SwyxVoice Channel: Enter the number of voice channels you want to use at the same time. You can order a maximum of twice the number of ordered feature profiles. Speak max. voice channels = 2 * (Basic + Professional + Premium)
SwyxFax Channel: Here you can configure the number of required fax channels, i.e. how many faxes you want to send and receive simultaneously with the fax server. Each fax channel needs one voice channel as a basis. The number of fax channels should not exceed the number of voice channels. Typically, approx. 2 fax channels will be sufficient for a medium-sized installation.
Conference Rooms: The number of conference rooms is always preset and is calculated from the sum of Professional and Premium user profiles. Any other value will not be accepted. Each Professional and Premium user profile contains the function of a conference room. Conference rooms are created by assigning an extension for the conference user. Further details on configuration can be found in the manual. The ad hoc conference function is independent of this and is available to all users (including Basic users).
To complete this ordering step, press Next step
Step 5: Order User add-ons

In this ordering step you can order user add-ons. The following options are offered in detail:
Feature Pack for SIP telephones: If you want to use Yealink telephones, enter the number of Yealink telephones to be connected here.
System Phone License: The Swyx system phones must be licensed as known from previous SwyxWare versions, not separately, if they were purchased from Swyx. If you have purchased the Unify phones from other sources, you will need to add a System Phone license for each phone to be connected.
Swyx Analytics by aurenz: If the aurenz product is to be used in conjunction with Swyx Flex, it must be booked for all users. Activate the checkbox if you want to order aurenz. This order is then valid for all users. The price list shows the price per user.
Swyx Connector for IBM Notes: Enter the desired number of licenses here. Swyx Connector for IBM Notes can be booked for any user (Basic, Professional or Premium).
Swyx Connector for Microsoft Teams: Specify how many users should be able to use the Swyx Connector for Microsoft Teams feature.
Swyx VisualGroups and Swyx VisualGroups Enhanced: VisualGroups is offered with Swyx Flex as floating license. This means that VisualGroups is no longer queue-based, but can be ordered per user. Each user with VisualGroups can be a member of an unlimited number of queues.
Note: At least VisualGroups V1.3 must be used. Older VisualGroups versions do not support the new licensing!
VisualGroups (Standard) or VisualGroups Enhanced can only be booked exclusive to each other. That means either all users use VisualGroups (Standard) or VisualGroups Enhanced.
The maximum number of VisualGroups licenses that can be ordered is limited to the sum of all Professional and Premium user profiles.
The VisualGroups licenses can then be used by all SwyxWare users, but at the same time only up to the maximum number ordered.
Swyx Connector for Datev: Enter the desired number of Datev users you would like to order. Datev can only be ordered and used by users with a premium user profile. The required VisualContacts function is part of the Premium user profile.
Click Next Step.
Step 6: Server functions

Currently no further server functions are offered for Swyx. Therefore click directly on Next Step.
Step 6b: Software Update Plan
Only for the Swyx Purchase product variant you will be asked if you want to order the SUP (Software Update Plan). The Software Update Plan is a rental product which has to be paid monthly and entitles you to update your Swyx Purchase Model variant to any new, released, major version.
Step 7: Place order

At the end of the ordering process you will receive an overview of all ordered licenses including the calculation of the monthly and one time costs. On the left side you can see your purchase prices as a Swyx partner, which Swyx will charge you monthly or once. If the start date of the order is within one month, this start month will only be charged proportionately.
Click the Place Order button to complete the order. Subsequently the license will be generated automatically on the start date and can be used from this date on.
The configuration and activation process of SwyxWare is described in the following article: click