Problem:
If you start the user import tool with the current version 11.10, a login is required. If you log in, the tool is immediately terminated with an error message.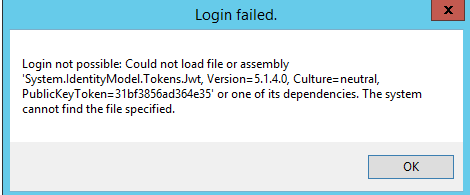 Cause:
There are some .dll files missing which are needed to start.
These are available, but are only in the wrong directory.
Solution:
Copy the *.dll files from the SwyxWare directory (C:\Programme(x86)\SwyxWare) to the directory from which the user import tool is started. Start the user import tool - log in - done.
The missing files are:
Microsoft.IdentityModel.Logging.dll
Microsoft.IdentityModel.Tokens.dll
Newtonsoft.Json.dll
System.IdentityModel.Tokens.Jwt.dll