Deutsche Telekom offers its business customers a SIP trunk with user authentication, i.e. you receive information on UserID, UserName and UserPassword, although the names may vary, or you only receive the user name and password. In this case the UserID is identical with the UserName.
Important: The CompanyFlex SIP Trunk of Deutsche Telekom was first tested and released with a SwyxWare 12.00.0.0. Operation with an earlier SwyxWare version is not possible.
Platforms
SwyxWare
The SIP trunk of Deutsche Telekom can be used without restrictions from SwyxWare 12.00.0.0
SwyxOn
The CompanyFlex SIP Trunk from Deutsche Telekom is not suitable for operation in data centers.
Support for data center operations will be available from Q4/2020 at the earliest.
Configuration
When creating the SIP trunk group, 'Telekom CompanyFlex TCP (DE)' must be selected as the profile. If encryption is desired, 'Telekom CompanyFlex TLS (DE)' must be selected as profile. For this it is necessary to import the Telekom root certificate into the Windows Certificate Store of the SwyxWare server. For more information see the download link at the end of this article.
Important: When using Internet connections that are not provided by Deutsche Telekom, the TLS profile must be used.
After creating the SIP trunk group, it is necessary to configure the custom outbound proxy. This is done using the SIP tab in the trunk group properties: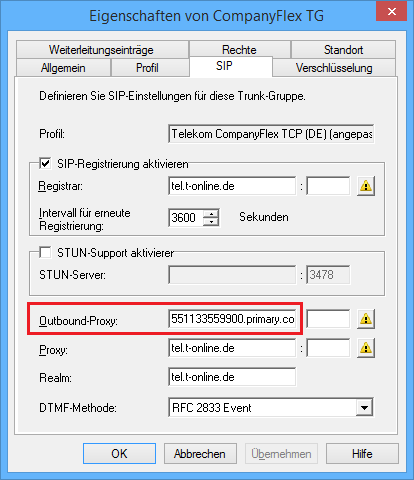 Required information:
Registration number
Telefony Password for the CompanyFlex SIP Trunk
The assigned number blocks and if applicable MSN numbers
This information was provided by Telekom when the connection was set up, or can be retrieved via the customer center.
When entering the user data for a created SIP trunk, the registration phone number must be entered as User ID and User Name.
In the codec dialog for FAX transmission via T.38 the two options "Remove T.38 codec from initial invite" and "Prohibit T.38 reinvite by sender" must be activated.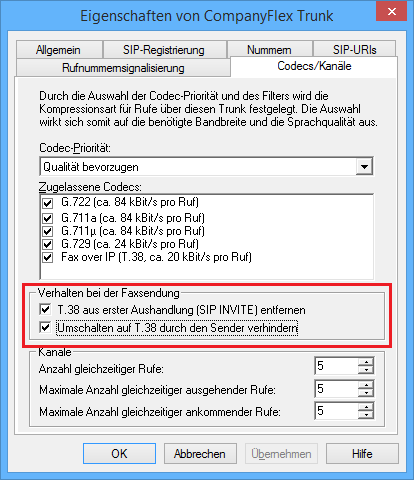 A detailed configuration guide is available for download at the end of the article.
Tested Features
Incoming/outgoing national calls
Incoming/outgoing international calls
Correct Calling Line Identification (CLI) on national and international calls
CLIP No Screening
Holding and retrieving calls
Toggling between two calls
Call transfer
Call forwarding
Conferencing
Incoming/outgoing DTMF signalling in accordance with via RFC2833
FAX transmission via T.38
Test date:
09/12/2019 with SwyxWare 12.00.0.0
The third-party contact information included in this article is provided to help you find the technical support you need. This contact information is subject to change without notice. Swyx in no way guarantees the accuracy of this third-party contact information nor is responsible for it's content.
References