General
Deutsche Telekom offers its business customers a SIP trunk with user authentication, i.e. you receive information on UserID, UserName and UserPassword, although the names may vary, or you only receive the user name and password. In this case the UserID is identical with the UserName.
Important: Connection of the CompanyFlex SIP Trunk of Deutsche Telekom requires at least a SwyxWare 12.20.0.0. Operation with an earlier SwyxWare version is not possible.
DNS configuration
Basically the DNS server of the respective Internet access provider should always be entered on the SwyxWare server (or router).
DNS in the VoIP environment for Telekom connections
For Telekom connections with PPPoE dial-up (xDSL), these are automatically assigned when dialing in. For CompanyConnect (CoCo)/GermanyLAN Connect IP (DCIP) as well as for Business Premium Access (BPA) these are stored on the customer letter. There must be no confusion between CoCo/DCIP and BPA DNS servers!
The DNS server for the respective product must always be used. In the worst case, incorrect configuration can lead to SIP trunks not being registered, to temporary problems (e.g. dropped calls) or to Quality of Service (QoS) not working. The customer should therefore know whether he has a CoCo, DCIP or BPA.
DNS in the VoIP environment with third-party access
If the customer uses a third-party access (e.g. Vodafone as carrier line) the DNS servers of the provider should also be entered. If these do not support eDNS and ECS, the address 9.9.9.11 of the third-party provider Quad9 can be used. Internet access via Telekom LTE is also considered third-party access (voice products via LTE are currently not released).
Under no circumstances should Telekom DNS servers be used for third-party access.
Platforms
SwyxWare
The SIP trunk of Deutsche Telekom can be used without restrictions from SwyxWare 12.20.0.0
SwyxOn
The CompanyFlex SIP Trunk from Deutsche Telekom for direct termination is not released by the Deutsche Telekom for operation in data centers.
The connection to the CompanyFlex SIP Trunk of Deutsche Telekom for use with SwyxON can be made via a suitable gateway installed at the customer's site. A configuration guide for a LANCOM gateway is available for download at the end of the KB article.
Configuration
When creating the SIP trunk group, 'Telekom CompanyFlex TCP (DE)' must be selected as the profile. If encryption is desired, 'Telekom CompanyFlex TLS (DE)' must be selected as profile. For this it is necessary to import the Telekom root certificate into the Windows Certificate Store of the SwyxWare server. For more information see the download link at the end of this article.
Starting with SwyxWare 13.20 the profiles 'Telekom CompanyFlex PPI TCP' and 'Telekom CompanyFlex PPI TLS' are available. These profiles are to be used if no CLIP No Screening has been booked for the CompanyFlex Trunk, but a user nevertheless does not want to signal his own personal call number for outgoing calls, but e.g. a group call number originating from the call number range of the CompanyFlex Trunk.
Important: When using Internet connections that are not provided by Deutsche Telekom, the TLS profile must be used.
After creating the SIP trunk group, it is necessary to configure the custom outbound proxy. This is done using the SIP tab in the trunk group properties: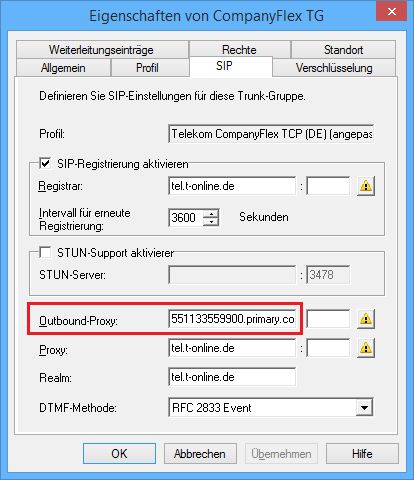 Required information:
Registration number
Telefony Password for the CompanyFlex SIP Trunk
The assigned number blocks and if applicable MSN numbers
This information was provided by Telekom when the connection was set up, or can be retrieved via the customer center.
When entering the user data for a created SIP trunk, the registration phone number must be entered as User ID and User Name.
SIP URIs
When creating the actual SIP trunk, a SIP URI must be entered after configuration of the phone number range so that incoming calls can be assigned. The assigned number block must be taken into account in the correct format.
Example:
Number block: +49 231 9988776600 ... +49 231 9988776699
In this case, the SIP URI must be entered in the format +4923199887766*@*.
A SIP URI with the corresponding wildcarding must be added for each phone number block, or for each individually configured phone number.
Codec configuration
In the codec dialog for FAX transmission the option "Fax over IP" has to be deselected.
A detailed configuration guide is available for download at the end of the article.
Configuration of CompFlex SIPTrunk
If external calls are immediately forwarded to another external destination, especially to the mobile network, call termination may occur. Other situations leading to call termination are also possible. The call terminations are initiated by the CompanyFlex platform if, in the standard case, a corresponding signal is not given within three seconds.
The timer for this call abort can be increased in the Business Service Portal.
Instructions for setting this timer are available for download at the end of this article.
Tested Features
Incoming/outgoing national calls
Incoming/outgoing international calls
Correct Calling Line Identification (CLI) on national and international calls
CLIP No Screening
Holding and retrieving calls
Toggling between two calls
Call transfer
Call forwarding
Conferencing
Incoming/outgoing DTMF signalling in accordance with via RFC2833
FAX transmission via G.711
Restrictions
None
Test date
28/09/2019 with SwyxWare 12.20.0.0
Disclaimer
Verifying interoperability between different SIP providers and the Swyx solution is part of the Enreach Technology Alliance Programme (TAP) tasks. Due to different implementations of the SIP RFCs, it is necessary to determine and provide an individual configuration for each SIP provider.
Within the TAP, Enreach tests a large number of national and international SIP providers in order to make statements about the interoperability with the Swyx solution and the functional scope of the respective SIP trunk. These results and, if needed, configuration advice are published in Help Center articles.
Enreach is in close contact with selected SIP providers to ensure a quick troubleshooting in case of incompatibilities. In addition, tests are repeated at regular intervals to ensure consistent quality.
Despite regular retests it cannot be excluded that incompatibilities with the Swyx solution may occur due to changes in the SIP connection on the provider side or that the provided profile is no longer valid. After creating the trunk group or SIP trunk, the profile settings should be compared with the provider's information and adjusted accordingly in case of deviations.
However, should incompatibilities or problems occur with a tested SIP trunk, no claims for recourse against Enreach GmbH can be derived from this. In such cases, you can contact Enreach Support via your specialist dealer.
The third-party contact information included in this article is provided to help you find the technical support you need. This contact information is subject to change without notice. Swyx in no way guarantees the accuracy of this third-party contact information nor is responsible for it's content.