SUMMARY
Swyx releases the all new major version SwyxWare 13 simultaneously for SwyxON and on-premises installations.
Please contact our service department if you would like to use the version as SwyxWare Compact in your data centres for test purposes. A general release of the Compact version will take place in about two weeks.
The version will be available for download on
www.swyx.com
and on SwyxON in the course of 12.08.2021.
INFORMATION
Overview of the most important innovations in this version:
Swyx Connector for Microsoft Teams for Windows Clients

With the Swyx Connector for Microsoft Teams you can easily integrate the most important Swyx telephony functions directly into the Microsoft Teams user interface. This offers maximum usability, as the telephony functions of Swyx can be used quickly and conveniently from the Teams client.
System requirements:

Microsoft Teams from Microsoft 365 Business Basic
Microsoft Teams Client for Windows (support for other platforms planned)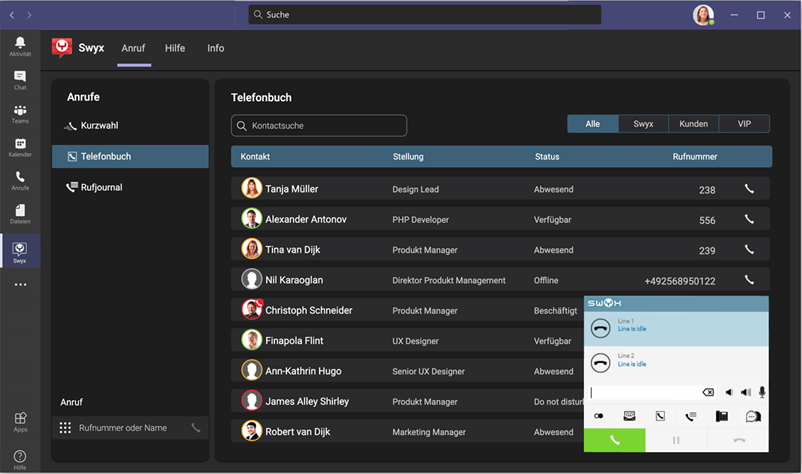 DECT 800 - Erweiterung

"One-touch" provisioning
Firmware upgrade "over the air
Favourites in the handset
SwyxWare global phonebook via LDAP
Call journal synchronisation
Pick-up
Menu navigation

New Provider ProfileS

Brennercom (I)
MKNetzdienste
Teleforte

Many other bug fixes and improvements

Details can be found in the attached release notes.
Please note that for the improvements in operation with Yealink phones a new firmware version must be used.
Technical Changes
Swyx Connector for Skype for Business is no longer supported.

Microsoft Office 2007 (32 bit)

Microsoft Offic e2010 (32/64 bit)

Microsoft Windows 7

Microsoft Windows Server 2008 SP1
Further information about many interesting improvements can be found in the release notes.
A summary of all previous SwyxWare versions can be found here:
To update from a SwyxWare version prior of 13.00 update licenses are required.